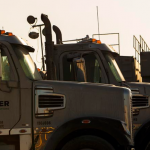 Nextier Oilfield Services
Frack Sand Drivers Wanted
Job Description
• Sign-On Bonus!
• Treated with professionalism and respect.
• Guaranteed weekly pay.
• Competitive Pay.
• Benefits available
• Paid Time Off.
• No slip seating.
• Various schedules.
• No relocation necessary.
Position Summary

The Sand Hauler is responsible for the safe operation of a truck tractor and pneumatic or chassis trailer while hauling frac sand to active hydraulic fracturing locations.
Key Accountabilities
Transport trailer to assigned destinations in an efficient and safe manner.
Maintain and promote safety procedures and policies while adhering to all DOT requirements.
Load and unload trailers.
Complete the associated paperwork for each job to include pre and post trip inspections, work tickets, and electronic logs.
Operate vehicle in accordance with Occupational and Safety Health Act (OSHA) and Department of Transportation (DOT) requirements as well as all local, state and federal requirements and Company expectations for the fleet.
Participate and cooperate in all scheduled trainings, briefings, and meetings as required by Management.
May be requested to work outside of normal work schedule to meet customer needs.
Perform other duties as assigned.
Required Knowledge, Skills, and Abilities
Ability to be relied upon to perform a task in the way required and to complete the assigned job duties and responsibilities.
Open to change and new information. Able to adapt behavior and work methods in response to changing conditions.
Able to make decisions that are sound, accurate, timely and supported by the reasoning and the inclusion of others.
Understands and complies existing and new regulations, policies, laws and guidelines.
Minimum Required Education
High school Diploma – Preferred
Minimum Required Work Experience
Sand hauling experience – Preferred
Licenses and Certifications
Valid Commercial Driver's License Class A – Required
NexTier is a leading provider of integrated completions that employs sustainable practices and equipment that supports our customers' ESG goals while accelerating production in the most demanding U.S. land basins.We continue to deliver integrated, environmentally conscious U.S. land completion services and power solutions that help our customers to safely and affordably unlock sources of energy.
Address: 13568 58TH ST NW, Williston, ND 58801