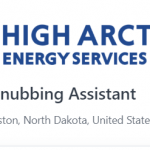 Website High Arctic Energy Services
High Arctic provides drilling and specialized well completion services, equipment rentals and complimentary services to the oil and gas industry. Our comprehensive equipment line-up including rigs, snubbing units, nitrogen, and specialized equipment rentals, combined with our support services and professionally trained crews delivers outstanding services in underbalanced drilling, workovers, completions, and more.
Powerstroke Well Control a division of High Arctic Energy Services Inc., operates a diverse fleet of snubbing units from operation centres in the United States.
Work Environment / Physical Demands
Difficult weather conditions, physically demanding and long work days; performing duties and operating activities in remote locations
Able to work away from home for extended periods of time as required
Local, camp or hotel work depending on location and client needs
Ability to manage seasonable interruptions in work schedule
Requirements
Direct Snubbing experience is considered a significant asset (Completions, Drilling, Workovers etc.)
Relevant Service Rig or Hybrid Drilling experience would be considered
Valid and current Driver's License, with clean Driver's abstract
Experience working with and respecting extreme pressure, fitting and removing pressure-control equipment to the wellhead to enable
Isolating a specialized tool between blowout preventers to enable the tool to be used in the well (i.e. staging)
Provide support with pre- and post-snubbing operations
Mechanical aptitude and problems solving skills with the ability to perform basic mechanical maintenance
Ability to complete safety documentation in an accurate and timely manner, strong work ethic
Communicate effectively with the safety department
Actively participates in safety related meetings including: daily tail gates, last minute risk assessments
Identify safety issues and problems and takes corrective action and follow through (i.e. any Hazard ID's on location or equipment must be addressed with manager)
Benefits
Signing Bonus
Employer Paid Health & Dental Benefits
Extended health care benefits
Career advancement programs
Supplied PPE
A great team to work with